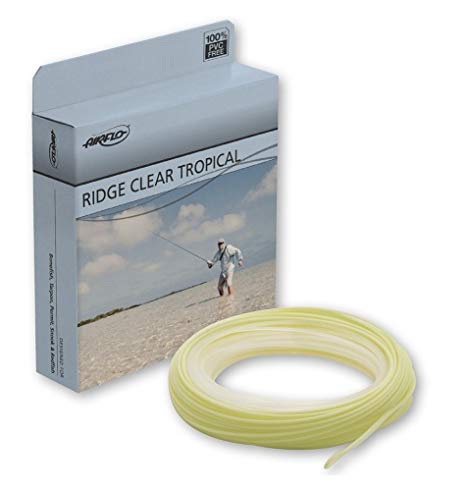 Airflo Fly line Ridge Tropical Clear Floating Bonefish/Redfish/Tarpon
To many fly anglers, tropical fly fishing is the grail of the sport. The hot humid air, crystal clear water and the immense variety of available fish make it every fly angler's wet-fly dream. The very same heat that makes it so appealing often makes it a difficult endeavor for fly fishing lines. Traditionally you need a stiffer coating material in order to withstand the heat--otherwise you end up casting sticky spaghetti. Often times, those stiffer coatings make the line feel like you're casting cable.
Enter Airflo's Ridge Tropical Saltwater lines.
Finally, a clear saltwater fly line that takes full advantage of Airflo's Ridge technology. Built on a low stretch monofilament core the Ridge Clear Tropical has a coating optimized to perform at higher temperatures. Ridges significantly improve shoot ability without excess line noise in the guides and significantly reduce tangles on the deck. When wet the ridges disappear in the water for an incredible low optical density, making the line virtually invisible to your target species.
Core: Mono
Taper: WF
MSRP: $79.99
Sizes:6 through 12
Color: Clear